Furry Fun!!! The Furry Convention (Further Confusion) in downtown San Jose.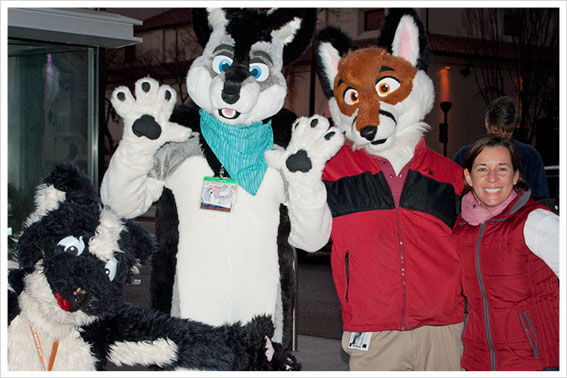 If you are in downtown San Jose this weekend it is most probable that you will see hundreds of furry creatures walking around. The Further Confusion is a 4 day event  that started  today, January 17th and goes through Monday, 21st, 2013!
It is one of the world's largest anthropomorphic (or "furry") conventions held in the San Jose Convention Center, San Jose Marriott, and San Jose Hilton. These animal-inspired personality types are referred to as "fursonas."  

Last year there was an attendance of 3,021 fursonas! The organization that puts on this Furry Convention  is involved with charity work that has donated over $130,000 to various nonprofits organizations compromised with animal rescue and conservation efforts.
Don't be afraid, the furries are very friendly and love to give hugs even to you non-furry types 😉  The costumes range from simple furry tails to extravagant and costly ones.  Some reaching to a few thousand dollars.
If you want more information just check the CBS report video:
http://www.youtube.com/watch?v=kqNQPJwQEgI
Pretty cool huh? What kind of "fursona" would you be?