Visiting the Charles M. Schulz Museum and Research Center in Santa Rosa
This week we visited the Charles M. Schulz Museum and Research Center in Santa Rosa (about an hour north of San Francisco). Growing up Snoopy was one of my favorite cartoon characters that brought a lot of happy childhood memories and smiles to my face.
There are three main buildings and two different free parking areas. The first building is the Charles M. Schulz Museum and Research Center, the second building is the Redwood Empire Ice Skating Rink with the cozy 'Warm Puppy Café' inside and the third building is the Snoopy's Gallery & Gift Shop full of PEANUTS products.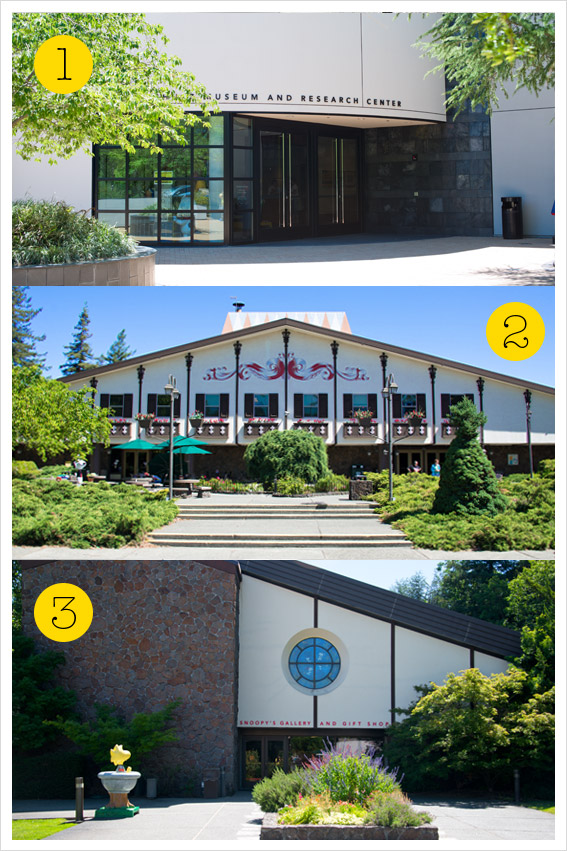 1. Charles M. Schulz Museum and Research Center
Once we parked the car I really enjoyed the outdoor Peanuts-themed music as we walked up to the museum building.
The museum was built in 2002, two years after the artist's death as a tribute to celebrate the life of "Sparky," (as the artist was called by close friends) the Peanuts characters, and increased understanding of cartoonists and cartoon art.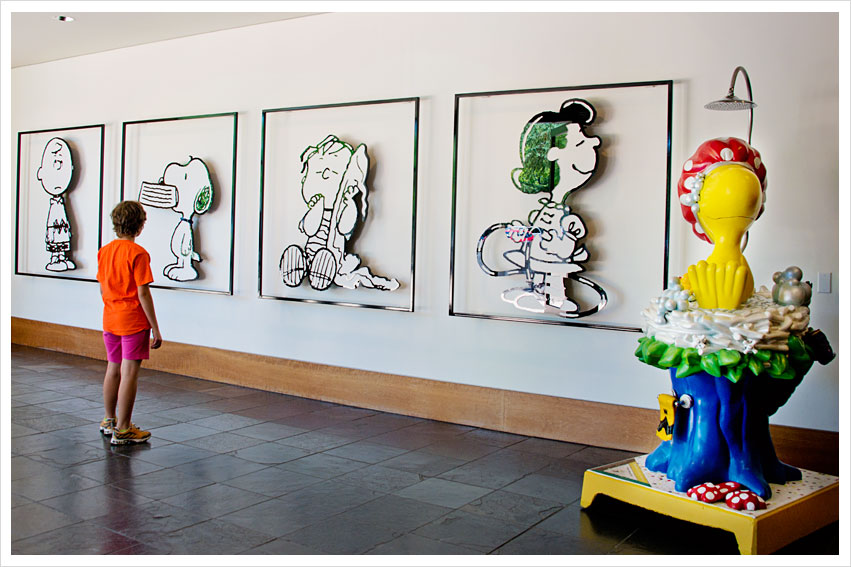 The Museum offers something for everyone in the family and all "Peanuts" fans. It includes several permanent exhibits like the re-creation of Schulz's working studio, the Wrapped Snoopy House, a labyrinth on the grounds shaped like Snoopy's head, Peanuts Tile Mural, the Nursery Wall and the Morphing Snoopy Wood Sculpture. There are also some exhibitions that changes 3 to 4 times a year.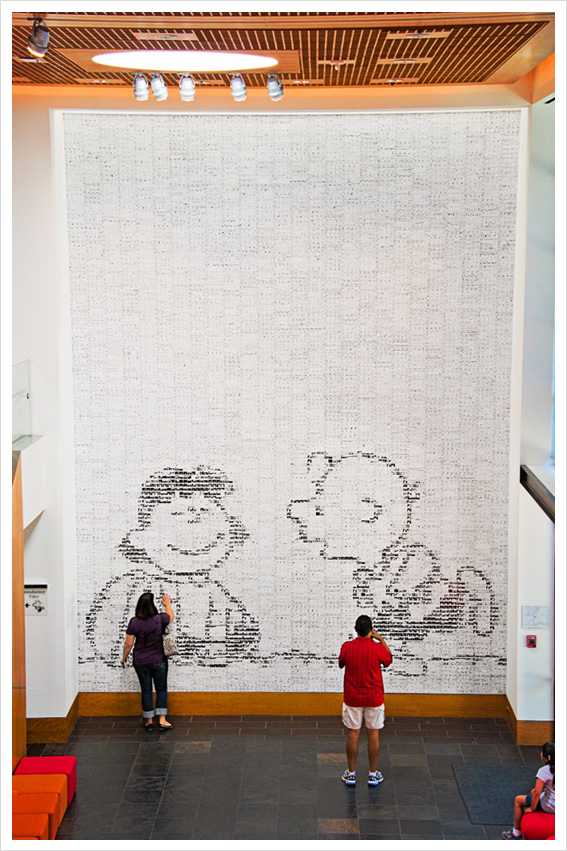 My favorite exhibition is the "Peanuts Tile Mural" by Japanese artist Yoshiteru Otani. Once you get closer you'll see that the work is made up of 3,588 tiles, each one featuring a different Peanuts strip. It is amazing!!!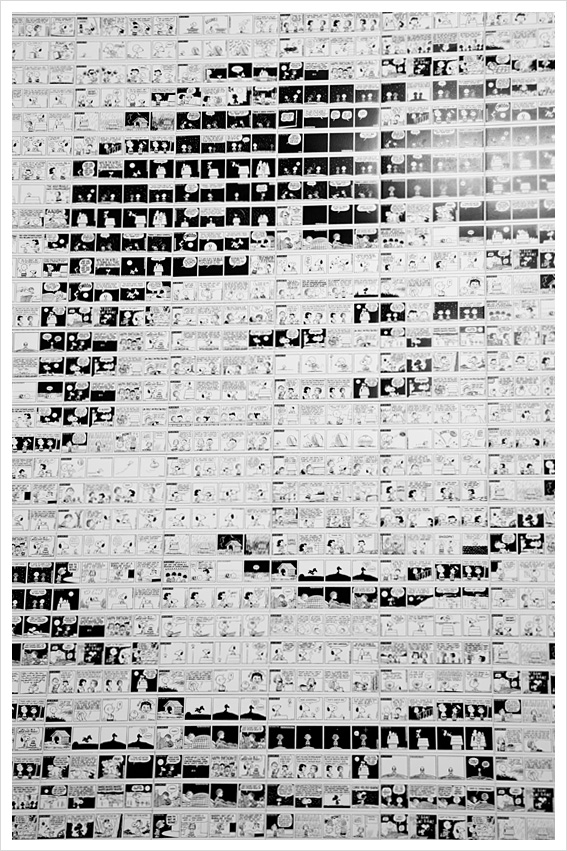 You can enjoy the charming outdoor garden with Peanuts inspired sculptures. You can also find the Lucy's Baseball Cap that covers Woodstock's Bird bath, which features five Peanuts holograms.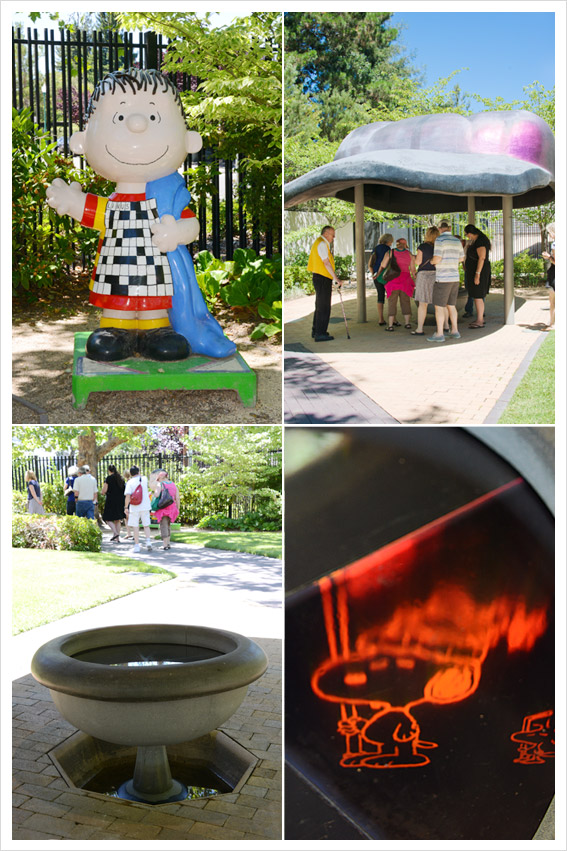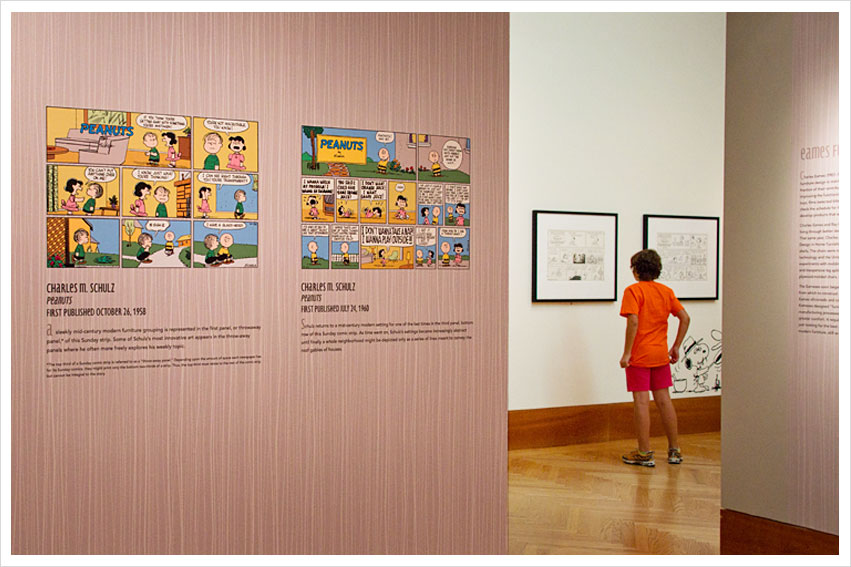 During our visit we meet some fans that were visiting from Japan, a very friendly couple from Italy and a large tour group all wearing the same bright colored t-shirts.
2. Redwood Empire Ice Skating Rink
Once we finished touring the museum we headed to the Ice Skating Rink built by Schulz in 1969 and had lunch and coffee at the Warm Puppy Café and enjoyed the hockey game that was taking place at the moment.
The café was Schulz's lunchtime hangout where he ate regularly a tuna salad sandwich with a cup of tea. He used to walk from his home to the Cafe twice a day. The Café still keeps his table near the window reserved.
We had visited the Ice Skating Rink before for ice skating and friends birthday parties.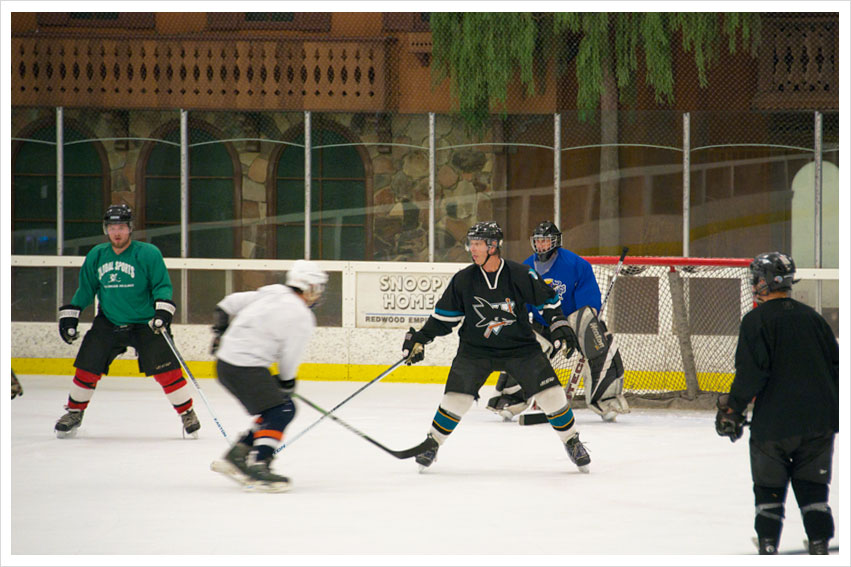 If you want to have some fun outside the ice rink, call a friend who is at the computer and say "Hi" to them through the webcam 😉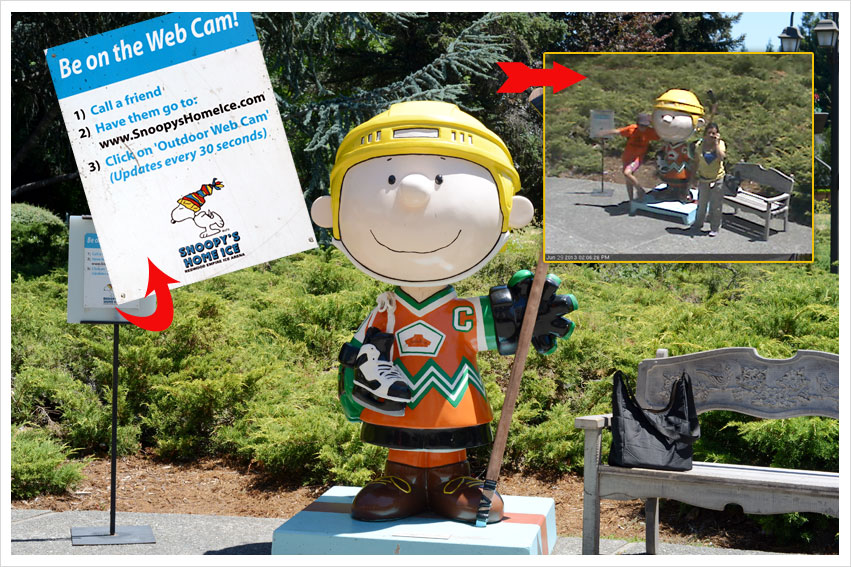 3. Snoopy's Gallery & Gift Shop
The extensive gift shop sells just about every kind of Peanuts memorabilia you could imagine. The shop is a 'must-see', even if you don't buy anything.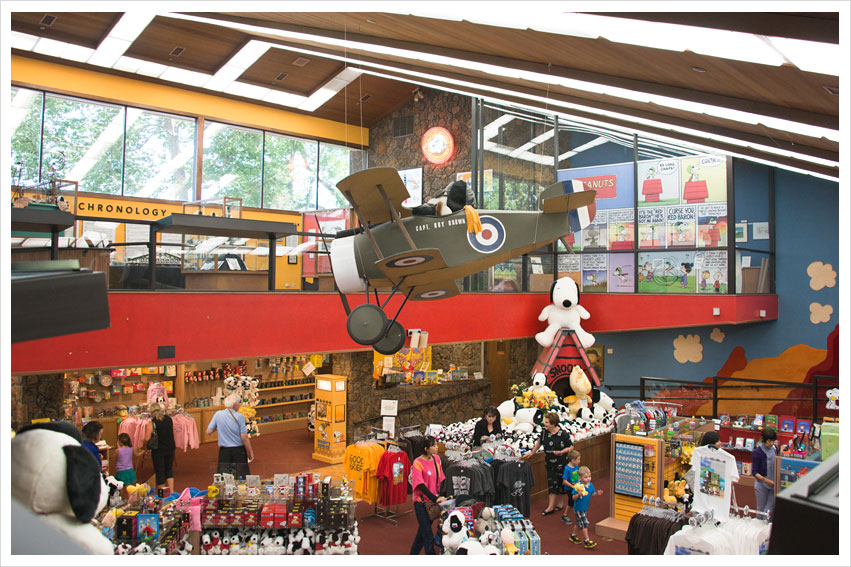 My favorite, "MonaLucy", an oil 21″x30″ board by Hallmark. Painted in 1989 to commemorate the 67th birthday of Charles M. Schulz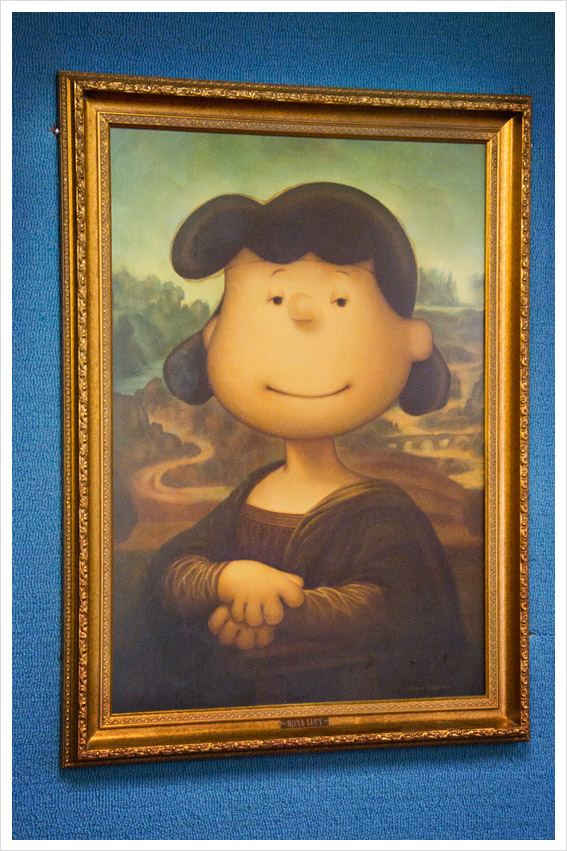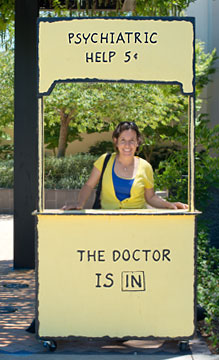 Website: www.SchulzMuseum.org
Address:2301 Hardies Lane, Santa Rosa, CA 95403
See in Google Maps >
Hours: Weekdays 11 am to 5 pm —  Weekends 10 am to 5 pm
Admisions:
Adults — $10
Seniors (62 and over with ID) — $5
Youth/Students (4–18 or w/valid student ID) – $5
Museum Members & Youth 3 and Under — FREE
We had a fantastic time at the museum seeing thousands of comic strips, exhibitions and learning about Snoopy, Charlie Brown, Lucy and the gang. There were a lot of giggles and non-loud happy laughs!!!
Have a smiley day!!!
Victoria 😉