Visiting the Jelly Belly Factory in Fairfield!
We had a very sweet weekend! Not only because it was Valentine's Day but because we visited the Jelly Belly Factory in Fairfield, CA! Named "Best Factory Tour in America" in 2005 by Reader's Digest. Jelly Belly's Factory is great for kids of all ages!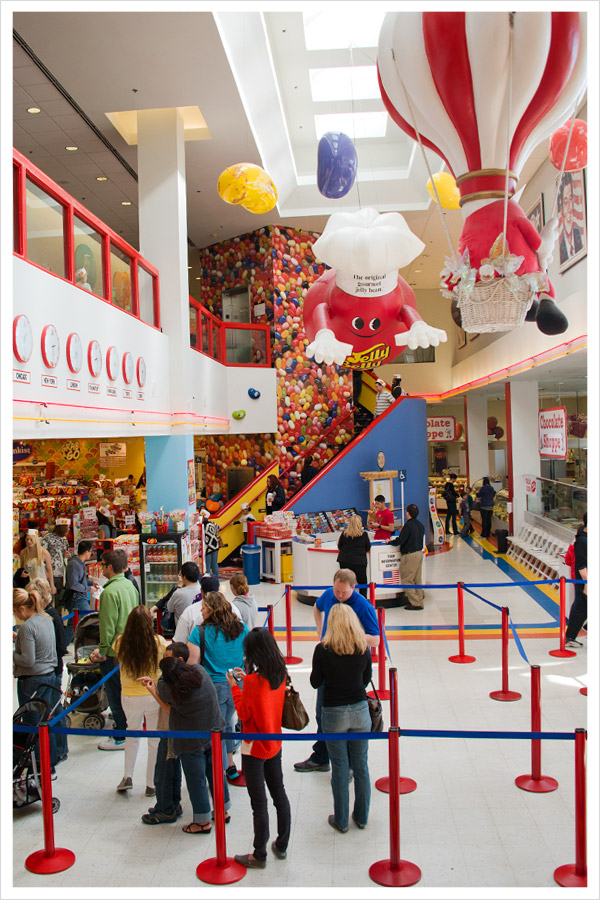 The Jelly Belly Factory has FREE daily tours from 9 AM to 4 PM. (tours are every 10-15 minutes)  Tour takes about 40 minutes but you should really plan to be there for an hour or hour and half depending of the amount of people that are visiting the factory.
Try to go on a weekday when the factory is in production. If you go on a weekend, you won't  be able to see the factory in production.
The first step into the factory and you can smell the aroma of the sweet jelly beans! Sugar Sweet Delight! You can see all the machinery and workers through large glass windows on the second floor. There are also short educational video clips in each stop section. Unfortunately, photography was not permitted during the tour.
You can check a short video of the factory on production here: http://jellybelly.cachefly.net/Video/2minvid/minitour.html (video credit: Jelly Belly Factory)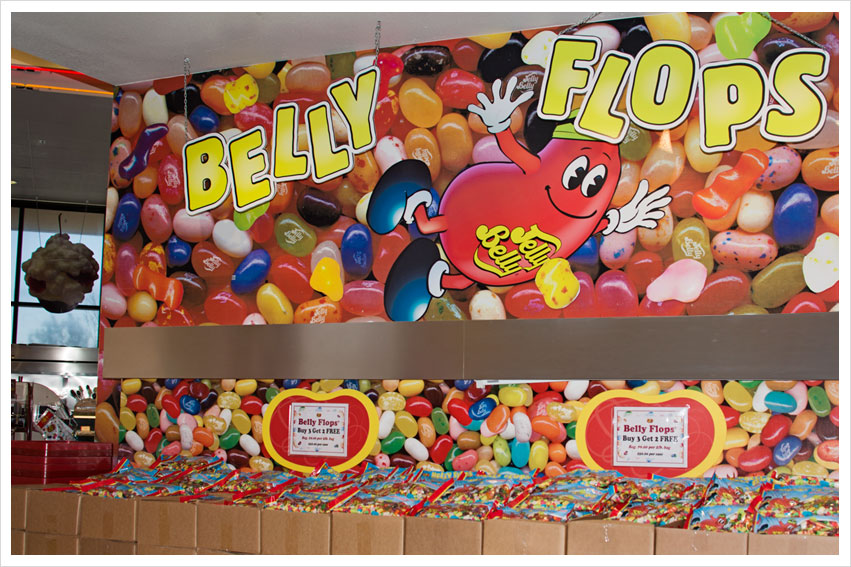 Belly Flops. These are the beans that didn't make the cut. Maybe the beans stick together, are too large or too small, shaped or colored funny. You really don't know what you are getting but I think that it is the fun part of it!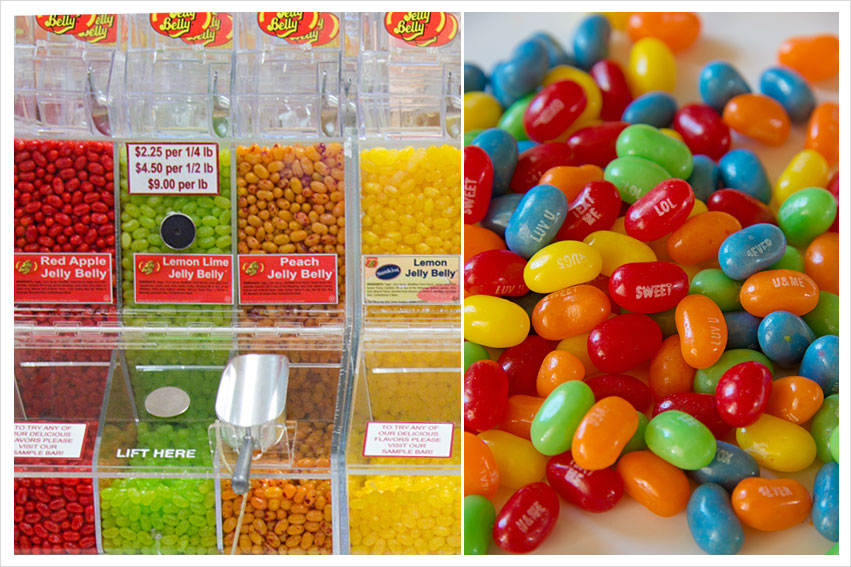 You can find any flavor here! From yummy flavors like strawberry, watermelon, and caramel to the famous Harry Potter's flavors like sardine, booger, earwax, earthworm, spaghetti, spinach, soap, pickle, bacon, and rotten egg.  We tried the rotten egg one. It was Gross! ewwwwwwwwwwww!!! 😉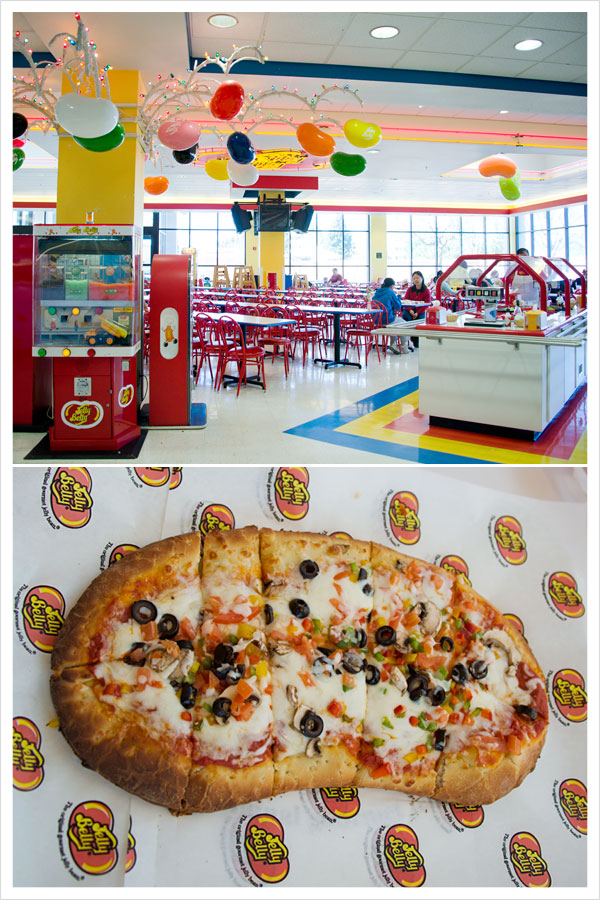 We had lunch at the Jelly Belly Café. We ordered the vegetarian Jelly Belly-shaped pizza

You can also bring your own lunch. There is an outdoor patio and picnic area available.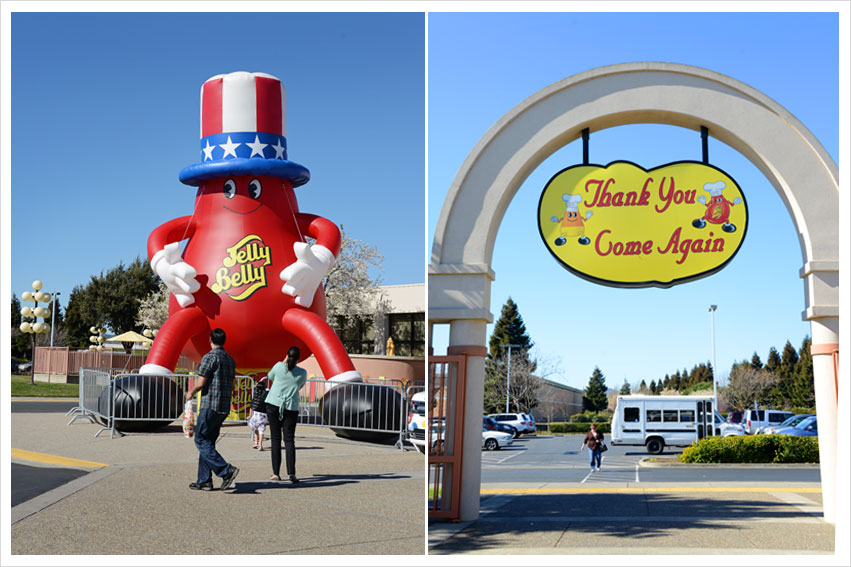 Did you know that the most popular flavor of all time is "Very Cherry"?
Can you guess what the second most popular flavor is?
Jelly Belly Factory
Website: www.jellybelly.com
Tours: 9:00 am – 4:00 pm daily. Tours are FREE!
Except New Year's Day, Easter, Thanksgiving and Christmas Day.
Address: 1 Jelly Belly Lane, Fairfield, CA 94533