San Francisco Holiday Fun!
Life-sized gingerbread house, ice skating, holiday jingles, Christmas trees, Menorah lighting and even cable cars and boats decorated with holiday ornaments. The San Francisco elves has been busy getting into the holiday spirit!
Check out some of our favorite holiday attractions in the city where you can find the spirit of the season.
1. The Fairmont's 22-Foot Tall Gingerbread House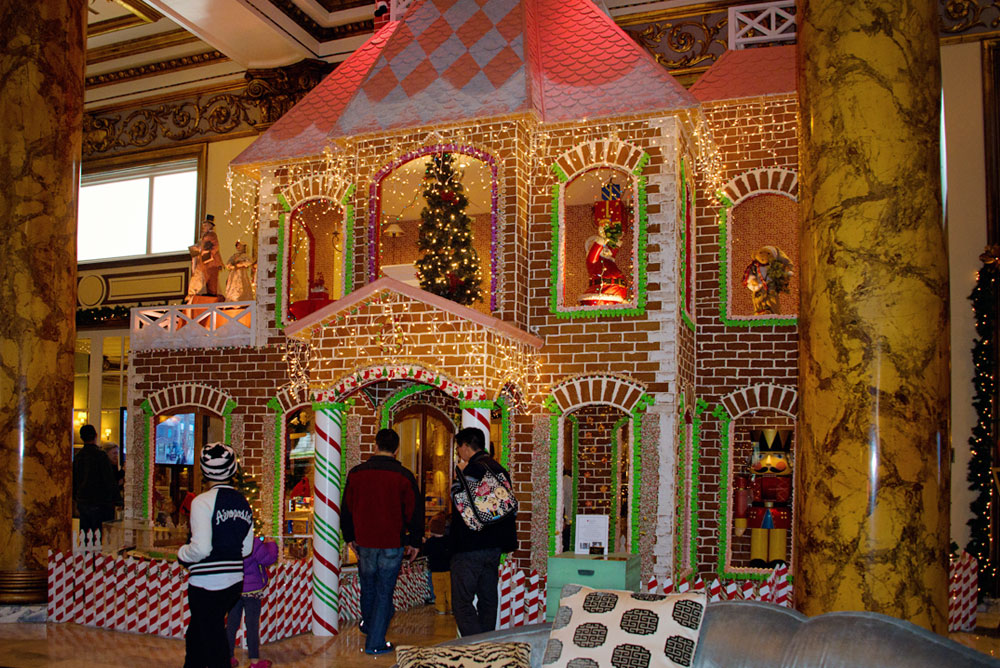 Walk inside the iconic Fairmont Hotel in San Francisco during the holidays and you will see the main lobby transformed into a must-see holiday destination.  You will be delighted by the stunning  22 feet high and 23 feet wide two-story Victorian gingerbread house.  The house includes thousands of baked gingerbread bricks and more than a ton of royal icing and candy decoration.
Pets are always welcome at The Fairmont.  For  the first time, the gingerbread house is accompanied by the gingerbread doghouse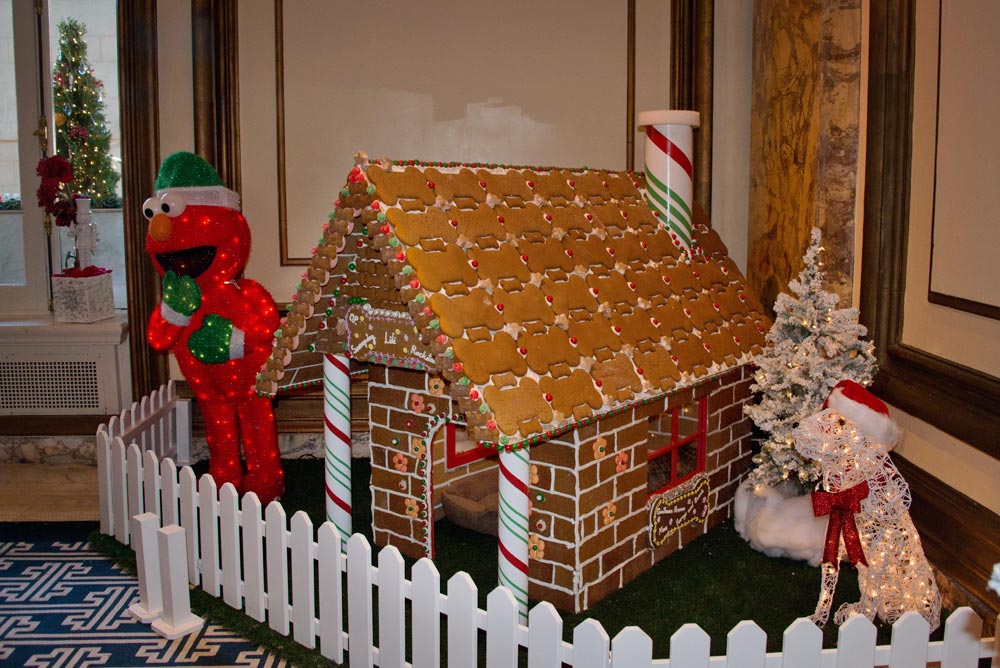 The Gingerbread will be on display in hotel lobby (950 Mason St., San Francisco), through January 1, 2014.

2. Union Square: The Macy's Christmas tree, giant Menorah and Safeway Holiday Ice Rink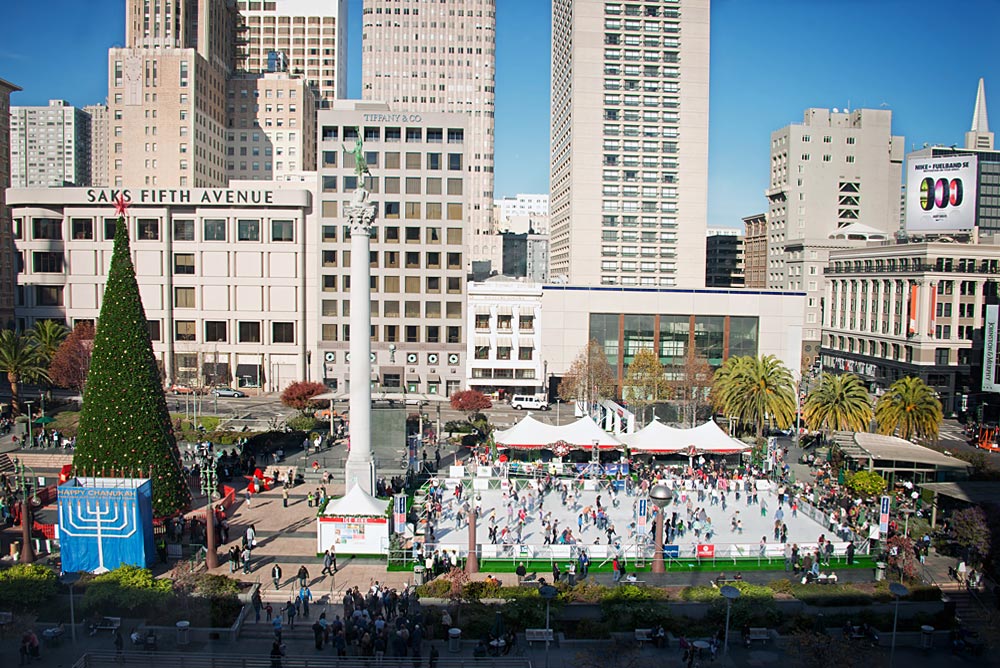 In the heart of Union Square and San Francisco's most popular shopping destination, stands the impressive 83-foot Macy's Christmas Tree, decorated with 33,000+ LED lights and 1,100 ornaments. Next to it, the giant Menorah stands up as part of Hanukkah festivities. Right in the center of the square, the Safeway Holiday Ice Rink is open from 10am-11:30pm daily until January 17, 2014. Lace up those skates and have perfect fun winter and magical holiday with family and friends!
PIER 39 & Fisherman's Wharf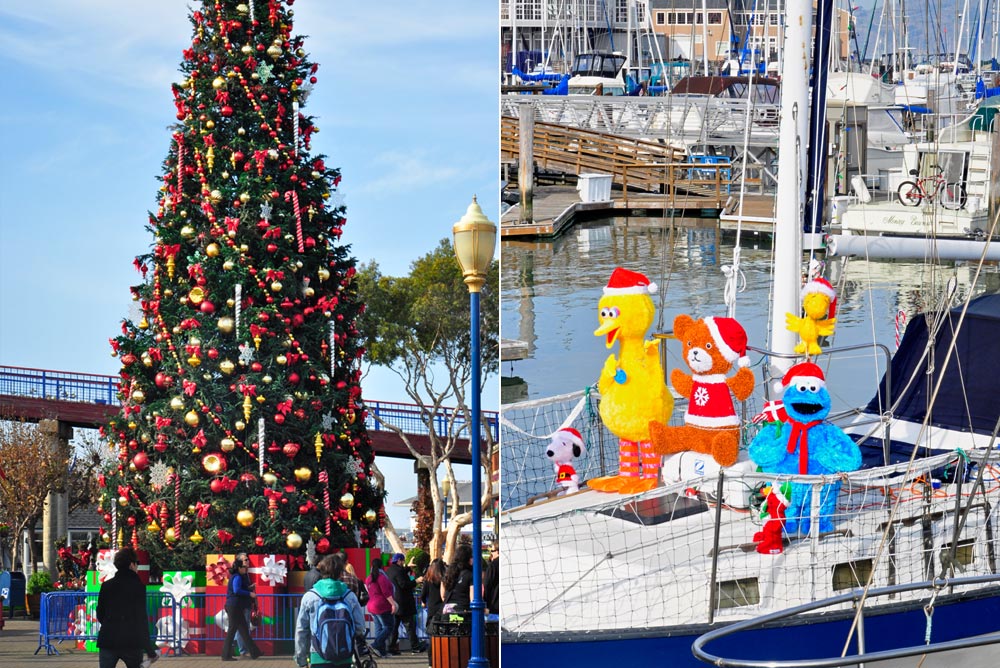 The vibrant  Pier 39 offers a majestic 60-foot tree adorned with lights, beautiful ornaments and colorful big presents at the foot of the tree…..just perfect for a family holiday photo! We also enjoy the fun live performers and holiday activities!
We also appreciated some boats at the Fisherman's Wharf with lights and holiday decorations getting ready for for the Lighted Boat Parade that will take place this year on December 13th at 5:30pm. Check Lighted Boat Parade for more information.
On our way back home we saw a cable car and few homes decorated with elaborate displays of lights, ornaments and holiday cheer!!!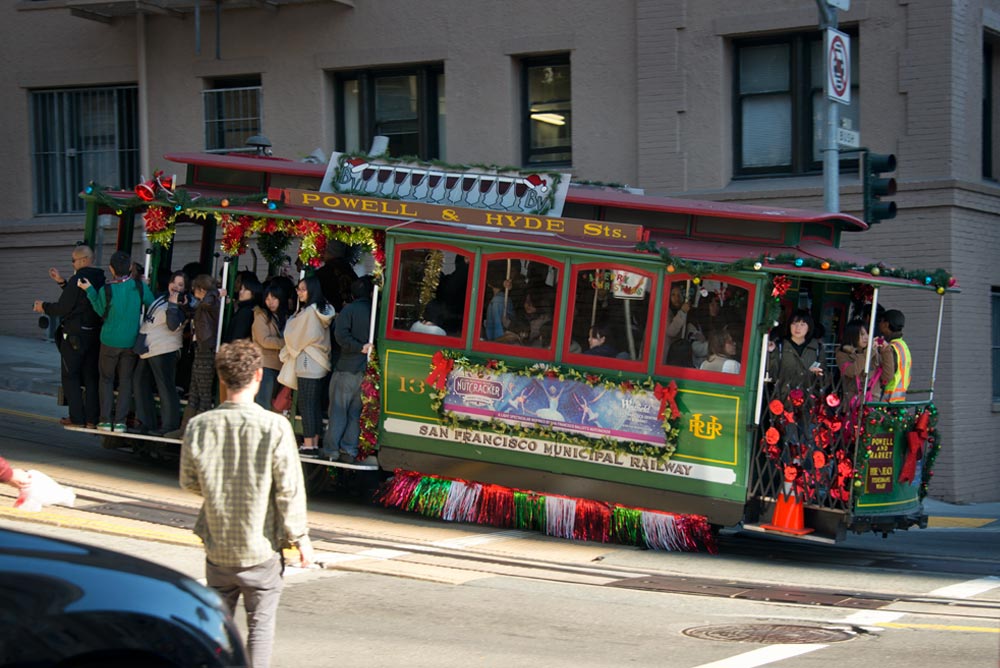 Enjoy San Francisco at the most festive time of year!!!
Victoria 😉