Visiting Mrs. Grossman's Sticker Factory
Today we visited Mrs. Grossman's Sticker Factory in Petaluma, CA. It is the oldest and largest sticker company in the United States and the world's only sticker factory tour.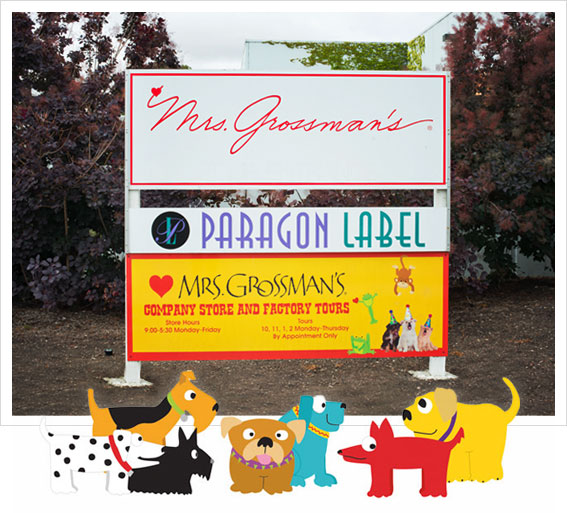 We visited the factory a few years ago and the store and tour space is now reduced due to space and storage challenges. Actually the tours ended and the retail sticker store was closed for some period of time in 2011. Even though the tour area and the store is a lot smaller I'm very happy that we can still have the opportunity to appreciate how many people, technology and equipment it takes to create a sticker.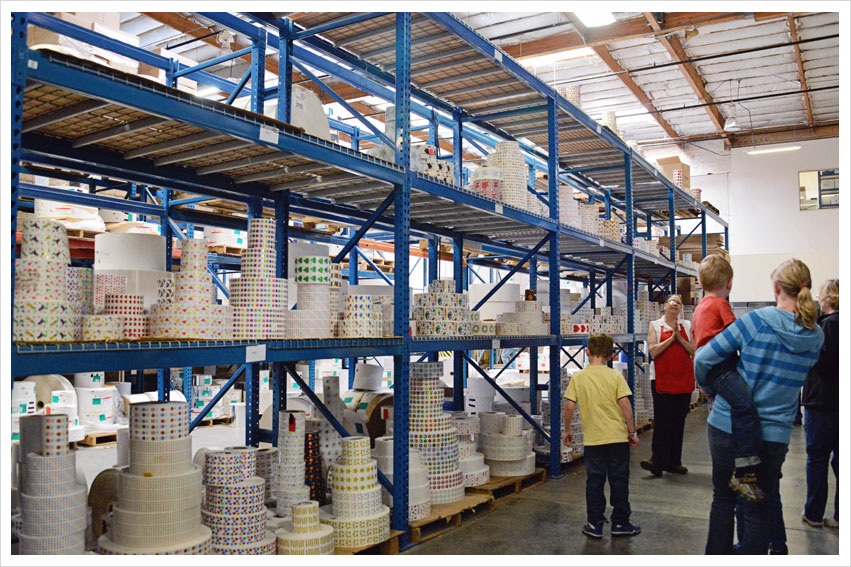 The tour takes about 45 minutes. It starts with an informative five-minute video in a small room followed by a guided walking tour of the factory floor. Besides their decorative stickers you can also see Paragon Labels, their daughter company printing elegant and beautiful labels. The labels are for different products and wine bottles from prestigious wineries like Francis Ford Coppola, Viansa, Sebastiani, St. Supery, B.R. Cohn, Iron Horse and Domenichelli among others.
Due to confidentiality agreement with the wineries, photography is not allowed in the factory. Sorry, no pictures of the factory.
During the tour you can watch stickers being printed while you learn some facts during the stops of the printing process. 1) Printing, 2) Rewinding & Finishing, 3) high-speed Packaging, 4) Recycling, it was very interesting to know that Mrs Grossman have received different awards for her compromise with the environment and everything in the building is recycled. 5) Hot Foil Stamping & Embossing and 6) the impressive Laser-cut. This is the only system of its kind in the world that cuts the more delicate and detailed stickers.
We saw a few dogs walking in the building. Mrs. Grossman's is a dog-friendly workplace and employees can bring their dogs in the factory.
Once the tour is finished you can go back to the video room and create a sticker postcard project.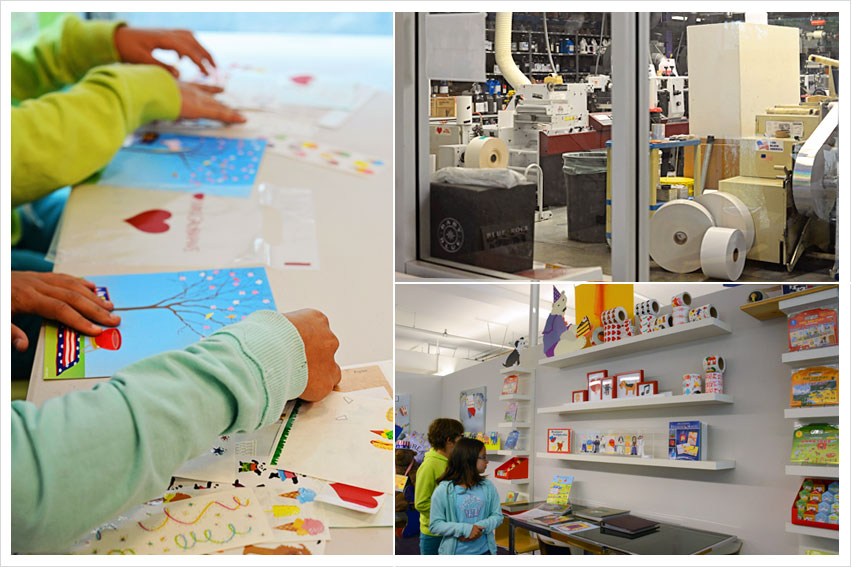 We didn't know there was so much work in the production of a sticker!
We had fun, learned a lot and got inspired by Mrs. Grossman's story!
If you are ever in Petaluma, this is a fun short tour to make. Just make sure you call in advance for reservations.
Have a Happy Day!!!
Victoria 😉
Mrs. Grossman's Sticker Factory
Website: http://www.mrsgrossmans.com/
Tour Days/Times:  Monday through Thursday, 10:00, 11:00, 1:00 and 2:00.
No walk-ins. Strollers are not allowed on the factory tour.
Reservations Required: 800.429.4549
Admission: Adults – $7.00, Youth under twelve – $5.00, Children under three – Free
Address: 3810 Cypress Drive, Petaluma, CA 94954
See in Google Maps >